I know wordless means no explaining, but for this one I thought I should just in case someone happens upon this and wants to know how we antiqued the paper. Lady Bug wanted an old looking piece of paper for a school project so I showed her how to do it. She is just thrilled and I'm currently the kewlest mom ever! Her words not mine!
So to do this we took a paper in a heavier weight (this was sketchbook paper) and after steeping a regular black tea bag in hot water I used the tea bag to brush water all over the paper. Soak it, it really is okay! You could pour the tea over the paper laid inside a bowl or dish but I found it gives a stronger color when you actually use the teabag to brush the liquid on. I then took a bit of cinnamon and rubbed that into the paper, don't worry it just darkens it in a few places and will brush off when the paper is dry!
After the whole thing is wet and tinted we worked together to blow dry the paper. You want to use the hotter setting but be careful, wave it around do not hold it directly over the paper. Also flip the paper as you go every 30 seconds. We started with her holding the paper, then as it started to get drier and firmer we laid it down on paper towels and kept drying it using the paper towel to help draw out the rest of the liquid. Once dry I brushed off all the cinnamon.
Next I ripped off the corners and put random small tears around the edges of the paper. I then took a lighter and holding it over a sink of water would light sections on fire and immediately blow them out and knock the ashes and embers into the sink. You don't have to tear the corners, I just found if you don't you have to let it burn longer. Also the various tears around the edges help direct the burn so that it looks burned ragged instead of evenly all around.
If you have any questions feel free to ask! Have you ever made antiqued looking paper, if so what was your favorite technique? This is just one way to do it, I have used other things such as coffee!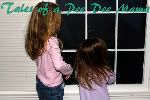 :